It's almost time for Do No Harm to air on our TVs!! For those of you anxiously waiting, the pilot episode is actually available online at NBC's YouTube channel. For those of you willing to wait until the premiere on January 31, what do you think is going to happen in the premiere?
The show seems pretty interesting from all the sneak peeks that we've been getting and we LOVE the idea of doing a modern day Jekyll and Hyde! To give some background, Dr. Jason Cole is Jekyll, the brilliant brain surgeon who spends his days doing remarkable procedures. Meanwhile, Ian Price is Hyde, the monster that takes over Jason's mind and body every night at 8:25.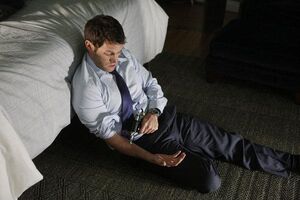 In the first episode, we learn/already know that Ian has built up a tolerance to the drug that Jason uses to knock himself out. After two nights of Ian partying hard and using his devilish ways to ruin Jason's life, Jason uses Ian's bad-boy ways to help one patient, and then tricks him into getting himself knocked out in the O.R.
With this in mind, we think that the pilot is going to start the series with a bang, and we are excited to make some predictions about it (and hear what you have to say too)!
Our predictions:
Wild things on Ian's end are about to happen. Can't wait to see how far the partying goes and how Jason reacts when he wakes up (we're assuming it's not going to be pretty).
Is Ian going to be able to find a way to come out during the day and not just at night?
Jason has an old flame, but having Ian around clearly ruins things. We think that she is going to have a run in with both, but Jason might not remember it which will cause more problems.
The old flame, Olivia Flynn, has a kid named Cole. Is it Jason's??
Ian and Dr. Lena Solis? Maybe!
We're expecting a lot of great scenes where Steven Pasquale is going to have to show the battle between his two identities. It's good vs. evil! He has to protect himself AND his friends from Ian, but it's not like he can kill him or run away...or can he?
What predictions do YOU have for Do No Harm? Share them below and be sure to take our polls!
Will you be watching the season premiere of Do No Harm?
If you saw the Pilot, what did you think?
---
---